You are here : HOME PAGE / / Kitesurfing
Canoa Quebrada - Kitesurfing
Canoa Quebrada has good conditions for practice kitesurfing and offers all year basic lessons with local instructors. Good winds !!!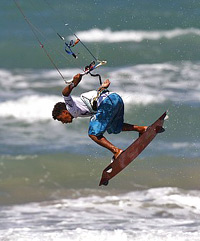 Canoa Quebrada - Kitesurfing
Known in over world for its splendid nature with giant dunes, red cliffs, and its splendid sea, Canoa Quebrada has another natural aspect that impresses: the strong Wind. In recent years, the same winds make Canoa the new kitesurfing paradise in the state of Ceará (after Prea beach), reaching 20/30 knots during the months between September and December, but in much of the year the winds are always constant and promote the practice of kitesurfing.

For lovers of kitesurfing and more experts Canoa Quebrada beach has strong wind for 7 months during the year. The official kite beach is near the cemetery, after the restaurant Bom Motivo, by exact. This is the ideal place to launch your kite with a very sandy beach, and rarely with boats. The wind blows side-on in the morning and afternoon is on-shore, and is not a spot very suitable for beginners. At high tide the beach is very small, and at low tide it has a lot of space. There are also many tourists on the edge of the beach and so do not be surprised if some of them started shouting with enthusiasm their movements. In Canoa Quebrada is almost always used kites from 8 to 12 months of wind and 12-16 in other months.
"The wind season starts in late June and ends in the middle of January. In this time of year the place has the perfect conditions for kiters of all levels"
WIND
On the morning side-shore and turns in the afternoon to-side on-shore. Between 14-22 Knots in the best season between June and January - From February to June, the wind drops to approximately 50%.
TEMPERATURE
Warm water all year, usually between 25-30° C.
WATER
The sea is very much chop and at the sea is a shorebreak.
SPOT of Rio Jaguaribe
Another very interesting spot in the region to practice kitesurfing is about 20 minutes west of Canoa Quebrada (10 km) at the mouth of the Rio Jaguaribe, allowing sailing at low tide for 4 hours a day with wind side / side and on flat water. In this spot you use a smaller sail than the beach of Canoa Quebrada.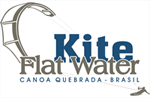 Event in Kitesurf
November 11th, 2008 - Canoa Quebrada was 2nd stage of the Circuit de Kitesurf Cearense the Freedom Fortress Kitesurf 2008, which happened on the beach in front of the restaurant Bom Motivo, in the afternoon of Saturday 8 and Sunday November 9, 2008. The event was the first official competition in Canoa Quebrada beah. Some photos of the event.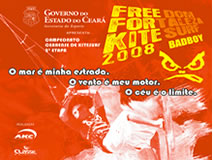 Freedom Fortaleza Kitesurf 2008
The best place throughout the state of Ceará to practice kitesurf is undoubtedly the beach of Prea, located 12 km east of Jericoacoara, being part of the National Park.



See more about PREA BEACH