From this collision of cultures has emerged a very special melting pot still in transition, a fusion of cultures in constant development.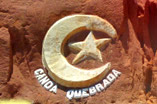 The Moon & Star, symbol of Canoa Quebrada
created by Chico Elisiário
The hospitality and the simplicity of the native inhabitants of Canoa Quebrada has been the starting point for this approach among the many diverse cultures, and consequently, appeared new families including some that have spread over several continents. The art in "the land of the Sea Dragon" (Dragão do Mar) is an essential weight in this growth initiated by the ancient very talented artists such as the poet Zé Melancia or the pioneer in the art of sculpture Elisiário Chico (Chico Tartaruga) who also was the creator of the Moon and Star (Lua e Estrela), the famous symbol of Canoa Quebrada.
Amongst the more recent local art figures, we'll mention the self-taught painter and composer Niciano that gripped the audience with his beautiful compositions in the eighties during the festival "Canoarte", festival that disappeared in 1994. His inimitable perspectives and paintings of the cliffs, paintings and drawings still visible in Canoa Quebrada, are engraved in the memory of the local population and the one of many visitors.
"....Music is born the moment that the musician plays
and painting is a moment that the painter captures...."
The creations, productions and performances of the Canoa artists are the reflection of the natural beauties of the region. They certainly need art collectors and an audience at they show to continue their works.
Translation of a text written by Juracy Montenegro
Also see: Art made of scales of the Camurupim fish (Portuguese)