You are here : HOME PAGE / / Attractions
Canoa Quebrada - Attractions
The area of Canoa Quebrada is surrounded by abundant nature, between dunes, lagoons, cliffs and sea green.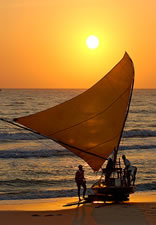 Canoa Quebrada
Canoa Quebrada is a beach with many attractions. Any time of year is ideal to enjoy the beauty that Canoa has to offer and further its beautiful region that extends across the Environmental Protection Area, full of indescribable landscapes, rare and probably unique in the whole state of Ceará. But none of them compares to the natural beauty of the beach, with huge red cliffs.
"....From high on the red cliffs you can see the shore in a beautiful open view of more than one hundred eighty degrees from one end to another...."
The right side we have the west coast up to the state border with Rio Grande do Norte, indented coastline of beautiful beaches and preserved areas. The left side can see the dunes, lagoons, the Rio Jaguaribe a wide-angle and see the magnificent beaches of the State of Ceará has over five hundred and fifty miles of coastal strip.
"The Extended abundantly rich in light is much sought by lovers of national and international photography."
Besides the natural beauty of the region and its tourist attractions, Canoa quebrada has much to offer. It is not just beach and beautiful scenery. In the village of fishermen is always busy, especially on weekends with the arrival of local and foreign tourists. Canoa, therefore, is prepared to entertain the visitors in the best possible way with many activities for all tastes and ages.
In recent years the activities most sought in Canoa Quebrada are kitesurfing lessons, the flight of paragliding, the 4X4 and buggy tours of the region and for the more adventurous the quadricycle or bike ride with a local guide.

See more about Activities in Canoa Quebrada.