History and heritage
The name of Aracati comes from the Tupi Guarani, language spoken by the Brazilian Amerindians: Aracatu = ARA (time, light, clarity) and CATU (good), ie favourable climates, fragrant breeze or wind that feels good. Its original name was Cruz das Almas, Santa Cruz de Aracati and, since 1842, Aracati.

Aracati owns an important architectural heritage: several buildings of the 18th century, residences that retain their facade decorated with blue and white tiles (azulejos) in the old "Rua Cel Alexanzito" (Rua Grande) are a legacy of the colonial times.
In April 2000, the city has been declared national heritage by the IPHAN (National Historical and Anthropological Heritage Institute).
Among the most interesting monuments of Aracati are: the church "Nosso Senhor do Bonfim", the church "Dos Prazeres" (1854), the church "Nossa Senhora do Rosário dos Pretos", "the Casa da Câmara" (Municipal House – Picture on top of page), the Municipal Library (Biblioteca Municipal) and the church "Nossa Senhora do Rosário dos Brancos" (Photo below) located at the Matriz Square. The Institute of the "Museu do Jaguaribano" in the Rua Grande is also worth a detour.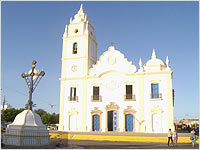 - Back to top -
Interests
Do not miss the daily open market (morning) that occupies the streets closed to the public market hall: stalls offer a wide variety of goods such as fruits and vegetables, spices, meat and fishes but also clothing, shoes and much more...
The name of the river Jaguaribe (Jaguar-y-pe) that crosses the city comes from the Tupi-Guarani language and means River of the Panthers. The Jaguaribe holds pleasant surprises for eco-tourism lovers, a branch of tourism in constant development.
But, undoubtedly, the beaches of the municipality are the main attraction of Aracati: Canoa Quebrada (the best known), Majorlândia, Quixaba, Retirinho, Fontainha and Lagoa do Mato.
- Back to top -
Carnival
Aracati organizes the biggest and busiest Carnival of the Ceará state. During the 5 days of music and animation, it is not less than 350,000 people who come to enjoy this unique festival.
Events
Festa do Senhor do Bonfim (Jan 1st)
Festa de São Sebastião (January)
Festival Folclórico-cultural do Baixo-Jaguaribe (January)
Carnaval d'Aracati (February)
Canoarte (July)
Fête de la ville (July 25th)
Régate de Jangadas de Majorlândia (October).
- Back to top -

Location of Aracati (Google Map):
- Back to top -